Cahuita National Park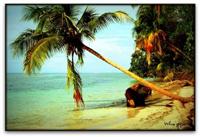 Cahuita beach © Arturo Sotillo
The only coral reef on the Costa Rican Caribbean coastline is found within this national park, and with 500 species of fish it affords excellent opportunities for snorkelling. Apart from the vibrant underwater colours and fish there are two sunken ships to explore as well.
The park was established in 1970, to protect the coral reef, but unfortunately it is still seriously threatened. While the land area of Cahuita National Park is small, it has stunning beaches and is good for both land and water activities, making it one of the most visited parks on the Caribbean coast. A well-defined trail runs through the coastal rainforest and howler monkeys and sloths are among the wildlife attractions. The area is also great for bird watching and if you are lucky you may see striking blue butterflies found in the jungle.
The hike to the beach is flat and the path is easy to follow and winds through wonderful jungle scenery. Be sure to take some water and snacks for the walk and try to set out fairly early because it becomes more difficult to see animals later in the day. There have been some reports of robbery in the park so be aware and try to stay in groups.