Skansen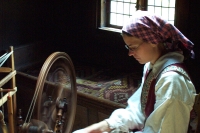 Skansen, Sweden © Hal O'Brien
Visitors can explore Sweden's past at Skansen, the oldest open-air museum in the world. Historical buildings dating mainly from the 18th and 19th centuries have been relocated here from around the country. Visitors move through five centuries of Swedish history, gaining a real sense of the nation's character and past. The exhibits include a full replica of a 19th-century town complete with craftsmen in period dress who demonstrate the arts of tanning, shoemaking, baking, and glass-blowing. Many shops are available to visitors, selling everything from blown glass to cinnamon buns, making Skansen a good place to shop for souvenirs. On summer evenings there is often folk dancing and other cultural displays to enjoy. Skansen is also home to an aquarium and the World of Monkeys within the Skansen Zoo, which focuses on Scandinavian animals such as reindeer, wolverines, elk, lynx, and brown bears. Every December the central square hosts a Christmas market that attracts thousands of visitors every weekend. The various restaurants and shops have their own opening hours, which can be confirmed on the website; the many special events held at Skansen also make it worthwhile to check the website before planning your visit.
Address: Djurgarden.
Website: www.skansen.se
Telephone: +46 8 442 8000
Transport: Bus 47 from Central Station, vintage tram 7, or ferry from Gamla stan.
Opening times: Daily 10am-10pm (20 June to August), 10am-8pm (May to 19 June and September), 10am-4pm (March, April and October); the rest of the year 10am-3pm (until 4pm on weekends). Market days 11am-5pm on weekends. Opening times are likely to vary frequently - check website for details.
Admission: SEK 140 for adults; SEK 60 for children