Heineken Experience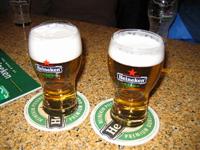 Heineken © Brodie319
As one of the most popular tourist attractions in the Netherlands, the Heineken Experience is not to be missed. Housed in the original brewery, guests will learn about the Heineken Company's history and its unique process, visit cutting-edge interactive exhibits and enjoy free beer at two pit stops along the way. Visitors will also take a gift of Heineken memorabilia home with them. The site's layout is impressive and the tour unfolds in a sophisticated manner, meaning its appeal extends beyond the interest of beer lovers. Travellers can avoid queues and potentially pay reduced ticket prices by booking online.
Address: Stadhouderskade 78
Website: www.heinekenexperience.com
Telephone: +31 20 721 5300
Opening times: Monday to Thursday 10.30am to 7.30pm; Friday to Sunday 10.30am to 9pm. In July and August open 10.30am to 9pm daily.
Admission: €18 (at the door), €16 (online booking), €12.50 (children aged 12 to 17).