Heineken Experience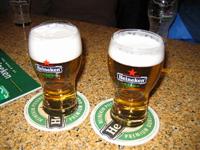 Heineken © Brodie319
One of the most popular tourist attractions in Amsterdam, and indeed in the Netherlands, the Heineken Experience is not to be missed. After opening its doors in 2001, the Heineken Experience has been attracting international beer-lovers for almost a decade. Housed in the original brewery, visitors will learn about the history of the famous Heineken Company and its unique brewing process, visit cutting-edge interactive exhibits and enjoy free Heineken beer at the two pit stops along the way. And visitors won't go away empty handed either: a gift of Heineken memorabilia is given to each visitor to ensure they remember their Heineken Experience. The site underwent major renovations in 2007 and is now better than ever. The new and improved Heineken Experience features a mini brewery, a new tasting bar and an opportunity to view Heineken's iconic Shire horses. The layout is impressive and the whole tour very sophisticatedly done - so much so that even those who aren't beer lovers should enjoy it. To avoid queues and perhaps get a reduced price book tickets online. Check out the official website listed below for more details.
Address: Stadhouderskade 78
Website: www.heinekenexperience.com
Telephone: +31 20 523 9435
Opening times: Monday to Thursday 10.30am to 7.30pm; Friday to Sunday 10.30am to 9pm. In July and August open 10.30am to 9pm daily.
Admission: €18 (at the door), €16 (online booking), €12.50 (children aged 12 to 17).