National Maritime Museum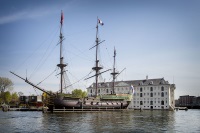 Maritime Museum, Amsterdam © Eddo Hartmann
Het Scheepvaartmuseum (the National Maritime Museum) gives visitors a glimpse into the country's seafaring past. The exhibit covers four centuries of history and includes paintings, ship models, antiquarian maps and navigation instruments, creating one of the world's most extensive collections of maritime memorabilia. Visitors will learn about fishing and whaling, naval combat, and the maritime trade in the Netherlands, as well as its journeys to places such as modern-day India, South Africa and Indonesia. Visitors can also explore a life-size reconstruction of a Dutch East India Company ship. The exhibition on the slave trade may not be suitable for children, though other displays are dedicated to younger age groups, and include fun, interactive activities.
Address: Kattenburgerplein 1
Website: https://www.hetscheepvaartmuseum.nl/
Telephone: +31 20 523 2222
Opening times: Open every day from 9am to 5pm.
Admission: €16.50 (adults), €8 (ages 4 to 17 and students).