National Maritime Museum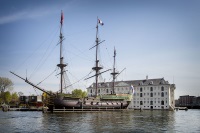 Maritime Museum, Amsterdam © Eddo Hartmann
Covering four centuries of Dutch naval history, the National Maritime Museum, or Het Scheepvaartmuseum, allows visitors a glimpse into the adventurous seafaring past of Dutch explorers and merchants through exhibits of antiquarian maps, navigation instruments, paintings and ship models, creating one of the most extensive collections of maritime memorabilia in the entire world. A major attraction is the life-size reconstruction of a Dutch East India Company ship called the Amsterdam, which is docked behind the museum and can be explored, allowing an exciting experience of what living on one of these ships must have been like.
Learn about the maritime trade, naval combat, fishing and whaling and the intrepid journeys that took the Dutch fleet to remote destinations as far away as modern day Indonesia, India and South Africa. The exhibition on the slave trade is fascinating but disturbing and perhaps not suitable for young children. There are, however, several exhibitions dedicated exclusively to kids, with lots of fun interactive activities. The museum building is imposing, set on the water and with a main hall overarched by a beautiful glass ceiling. Widely considered one of the best museums in Amsterdam, the Maritime Museum is a must for anybody with an interest in ships or naval history.
Address: Kattenburgerplein 1
Website: www.scheepvaartmuseum.nl
Telephone: +31 20 523 2222
Opening times: Open every day from 9am to 5pm.
Admission: €15 (adults), €7.50 (ages 5 to 17 and students).