Floralis Generica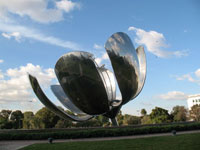 Floralis Genérica Buenos Aires © Andrew Allison
Floralis Generica is a working metal sculpture located on the United Nations square in Recoleta. Floralis Generica is composed of stainless steel, weighs eighteen tons and is twenty-three metres high. It was offered to the city by Argentine architect Eduardo Fernando Catalano, who described it as an 'environmental structure'.
Its metallic petals open and close based on the incidence of solar rays and visitors to the site will find the giant metal sculpture 'in full bloom' in the heat of the day and closed at night. The sheer genius and technical artistry of the giant flower makes it a Buenos Aires sight worth seeing, although currently the opening-and-closing function is disabled due to a fault with one of the six petals' installation. It is uncertain when the petal will be fixed, since the company responsible for the installation has been nationalised, rendering the 25-year warranty on the installation work void.
Whether opening and closing or not, though, the sculpture is worth a visit. It is placed above a reflecting pond, adding to its charm, and the area around the sculpture has been landscaped to resemble woodlands with several paths leading to the sculpture from different directions, providing contrasting perspectives.
Address: United Nations Park, Recoleta