Nueve de Julio Avenue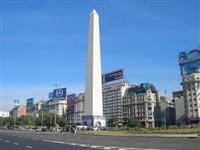 Nueve de Julio Avenue and Obelisk Argentina ©
At 416 feet (127m) wide, Avenida 9 de Julio is claimed to be the widest avenue in the world, honouring Argentina's Independence Day which falls on 9th July. The avenue runs from the Retiro district in the north to Constitucion station in the south, roughly one kilometre to the west of the Rio de la Plata waterfront and consists of 18 lanes of traffic, nine on each side.
In the middle of the street stands a 67-metre-tall obelisk marking the heart of Buenos Aires. The obelisk is a popular photo spot, and visitors can climb to the top where they can look out over the Avenida 9 de Julio through its four observation windows. A pedestrian underpass below the obelisk also serves as a station for three lines of the Buenos Aires Metro, lines B, C, and D, and the underpass also serves as a retail concourse.
The avenue is as wide as it is because it spans an entire city block. It was originally planned in 1888, but there were many disputes with landowners and actual construction only began in 1935. While the initial phase opened for public use in 1937, the avenue was only fully completed in the 1960's, with the southern connections only being added and completed after 1980.
It can take quite a while to cross the avenue on street level as opposed to using an underpass, since there are traffic lights at each intersection and crossing the avenue would require a pedestrian to wait at several red lights along the way.
Address: Avenida 9 de Julio, Buenos Aires