FC Barcelona Museum and Stadium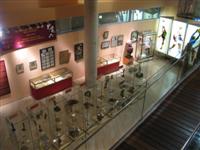 FC Barcelona, one of Europe's most loved football teams, has an informative museum with displays of photographs, documents, memorabilia and trophies, covering over a century of club history, that will sate the fascination of even the most dedicated fan. Visitors also get the opportunity to explore the famous stadium on the Camp Nou Tour which takes fans to the heart of the club, the changing rooms, tunnel and Nou Camp pitch. With a panoramic view of the stadium from the grandstand, visitors can get a taste of the heady atmosphere of a FC Barcelona match on their home ground. The museum also has an official store where club jerseys, caps and accessories can be purchased.
Address: Avenida Arístides Maillol
E-mail: museu@fcbarcelona.cat
Website: www.fcbarcelona.com
Telephone: +34 934 96 36 00
Transport: Line 3 metro to Maria Cristina
Opening times: Open from Monday to Saturday from 10am to 6.30pm (till 8pm from 6 April to 4 October). Open on Sundays and public holidays from 10am to 2.30pm. Tours not available on days of league and Champions league matches, but the museum is still open until 3pm.
Admission: Museum visit and Camp Nou Tour: €19 (adults), €15,50 (children). Concessions available