Buenos Aires Zoo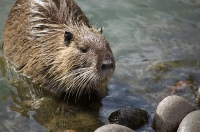 Buenos Aires Zoo © Beatrice Murch
Home to over 350 animal species and known for some of its exotic breeding, the Buenos Aires zoo is the perfect place for tourists, families, or a romantic date. With 89 species of mammals, 49 species of reptiles and 175 species of birds, the zoo's goals include conservation, producing research and educating the public.
Permanent exhibits include the Farm of the Zoo, where visitors can feed and pet ponies, goats, sheep and donkeys, the Aquarium where visitors can see examples of the infamous piranha as well as other local fish, the Reptile House and the Tropical Rainforest. Disposable cameras are on sale and professional photographers are on standby to capture all the memories. Animal food can be bought at the entrance and other stations located around the zoo to encourage visitors' interaction with the animals.
The best time to visit the zoo is on a sunny weekday afternoon, when time can be spent lounging in front of the elephant house or the white tiger enclosure, for which the zoo is well-known, with only a few other people to contend for the best view. Parts of the zoo are built to resemble Byzantine ruins, Indian temple ruins and a castle, making for some interesting photo opportunities.
Address: Ave Sarmiento and Ave Las Heras
Website: www.zoobuenosaires.com.ar
Telephone: +54 11 4011 9900
Opening times: Tuesday to Sunday and holidays from 10am until 6pm. Open daily during school holidays.
Admission: ARS 190. Children under 12 get in free.