Pergamon Museum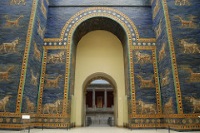 The Ishtar Gate © Paul Mannix
The huge Pergamon Museum has three main departments: the Antiquity Collection, the Islamic Art Museum, and the Middle East Museum, that house parts of reconstructed monumental buildings transported from excavation sites in foreign lands, or faithful replicas thereof. The Antiquity Collection contains the Pergamon Altar from the second century BC, as well as the Market Gate of Miletus from Roman antiquity. The main attraction in the Islamic Art Museum is the Mshatta façade originating from a Jordanian desert palace. The Middle East Museum houses the Ishtar Gare and the Procession Way of Babylon, as well as the throne room façade of Nebuchadnezzar II.
This museum is consistently ranked by visitors as one of the top attractions in Berlin and it is extremely special to visit all the ancient sites preserved in its halls. Everything feels enormous and although many of the exhibits feature reconstructions rather than originals everything feels extremely authentic. There is a free audio guide available which is hugely informative.
Address: Am Kupfergraben 5, Museum Island
Website: www.smb.spk-berlin.de
Transport: U-Bahn and S-Bahn to Friedrichstrasse; tram M1, M4, M5, M6, or 12; bus 100, 200 or 147
Opening times: Daily 10am to 6pm, until 8pm on Thursday.
Admission: €12 (adults), €6 (reduced).