Navy Pier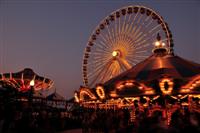 Situated on the lakefront, Navy Pier has developed into one of the city's main tourist destinations, offering year-round attractions, events and entertainment for the whole family. Navy Pier encompasses acres of parks and gardens, shops, restaurants, and numerous attractions and rides, as well as serving as an embarkation point for tour and excursion boats. Its 150ft (46m) Ferris wheel attracts more than eight million people annually; other main attractions include an IMAX theatre, Chicago's Children's Museum, and the Smith Museum of Stained Glass Windows. Other special attractions are offered throughout the year.
Address: 600 East Grand Ave
E-mail: navypierinfo@mpea.com
Website: www.navypier.com
Telephone: (312) 595 7437
Opening times: Open daily, but hours vary according to the season. Hours are usually Sunday to Thursday 10am-8pm, Friday and Saturday 10am-10pm.
Admission: Admission to the Pier is free, but many of the attractions require separate fees.