Faneuil Hall Marketplace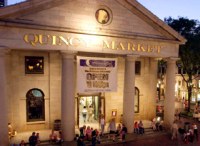 Entrance Quincy Market © www.faneuilhallmarketplace.com
A great Boston daytrip and shopping destination, Faneuil Hill Marketplace offers superb shopping with all your familiar designer stores as well as great restaurants and sidewalk cafés. Four places in one, Faneuil Hall Marketplace encompasses Faneuil Hall, Quincy Market, North Market and South Market. Set around a cobblestone promenade, the market is a haven for the performing arts with jugglers, mimes, musicians and magicians entertaining passers-by. Centrally located and operating for more than 250 years, the Faneuil Hill Marketplace is the hub of Boston city life. Drawing large crowds excited by the electric energy, visitors can shop, stroll, eat and wonder.
Address: 4 South Market Building
Website: www.faneuilhallmarketplace.com
Telephone: (617) 523 1300
Transport: Blue line to Aquarium/Faneuil Hall, green line to Government Center, or orange line to State Street
Opening times: Monday to Saturday 10am-9pm, Sunday 11am-6pm.