Boston Museum of Fine Arts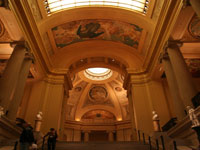 Museum of Fine Arts Entrance Hall ©
An artwork in itself, the Museum of Fine Arts in Boston houses some of the most famous European paintings, including Gauguin's Where Do We Come From? What Are We? Where Are We Going? Boston's oldest, largest and best-known art institution, the MFA houses one of the world's most comprehensive art collections, with 22,000 artworks including masterpieces by some of the finest artists in history. With a striking collection of Impressionist paintings by artists like Monet, Egyptian sculpture, and a moving exhibition of Japanese and other Asian artworks, visitors should make sure they have ample time to explore the exhibition rooms of the MFA. Have a break and enjoy a coffee or lunch at one the three gallery restaurants or browse the outstanding museum bookstore and shop.
Address: 465 Huntington Avenue
Website: www.mfa.org
Telephone: (617) 267 9300
Opening times: Daily from 10am-4:45pm. Open till 9:45pm on Wednesday, Thursday and Friday.
Admission: $25 (adults), children under 17 free. Concessions available.