Archaeological Museum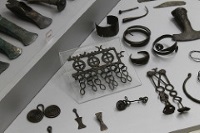 Ancient artefacts on display © Connie Ma
Founded in 1820, the Archaeological Museum in Split is the oldest museum in Croatia. Its displays include artefacts from prehistoric times, the Greek colonial period, and from the Roman, early Christian, and Medieval ages.
Most of the relics found in excavations of the Roman city of Salona are displayed here, and there is an interesting collection of submarine archaeology. The museum also contains a large collection of antique coins and a prominent library. Outside the museum there is a lovely garden with a covered walkway and a number of statues on display, which makes for a good opportunity to wander a bit and take some photographs.
Those who have smartphones can make use of the free wifi audio guide, which is informative and enhances the experience. Although this museum is not extensive, it remains very interesting and a great place to get familiar with Croatian history.
Address: Zrinsko-Frankopanska 25