Jumeirah Mosque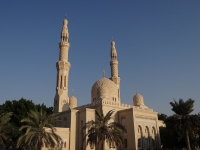 Jumeirah Mosque © Balazs Szanto
The Jumeirah Mosque is one of the most photographed sights in Dubai. A fine example of modern Islamic architecture, this beautiful mosque is also one of the city's largest, with a majestic dome and twin minarets, and is one of the few mosques open to non-Muslims for tours. Non-Muslims may only enter the Jumeirah Mosque on an organised tour. Modest dress is preferred, however traditional attire can be borrowed from the Mosque.
Address: Al Jumeirah Road
Website: www.visitdubai.com/en/pois/jumeirah-mosque
Telephone: +971 04 353 6666
Opening times: Tours are on Thursday at 10am; tours are also available on Sundays at 10am in summer.
Admission: Tour fee: AED 20 per person.