Dubai Museum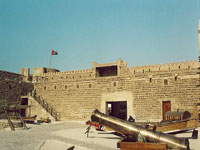 Al Fahidi Fort © James G. Howes
The imposing 19th-century Al Faheidi Fort houses the Dubai Museum, which has an impressive collection of military and cultural artefacts, as well as working models and life-size displays depicting various aspects of Dubai life such as the markets, an Islamic school, the desert, Arab houses and Gulf marine life. One of the most interesting exhibits shows the underwater world of pearl-diving. The fort was built in 1799 to guard Dubai from landward approaches, and was once the residence of the city's rulers as well as the seat of government until 1971.
Address: Al Faheidi Fort
Website: www.dubaiculture.gov.ae/en/Live-Our-Heritage/Pages/Dubai-Museum-and-Al-Fahidi-Fort.aspx
Telephone: +971 4 353 1862
Opening times: Saturday to Thursday 8:30am-8:30pm, Friday 2:30pm-8:30pm.
Admission: AED 3 for adults; AED 1 for children (under the age of 6)