Sheikh Saeed Al-Maktoum Museum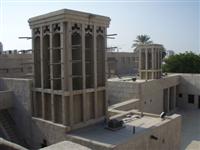 Sheikh Saeed Al-Maktoum's house © hiroo yamagata
Sheikh Saeed Al-Maktoum's house dates back to the 19th century, and was built for Dubai's ruler with commanding views over the sea. It is one of the oldest residences in the city and has been restored as a museum exhibiting historical photographs and artefacts showcasing Dubai's history and development. Its architecture is also a fine example of the regional style with its wind towers and central courtyard, teak wood doors and windows and wooden lattice screens.
Address: Al-Shindagha Rd
Website: www.dubaiculture.gov.ae/en/Live-Our-Heritage/Pages/Sheikh-Saeed-Al-Maktoum-House.aspx
Telephone: +971 04 393 7139
Opening times: Saturday to Thursday 8am-8:30pm, Friday 3pm-9:30pm.
Admission: AED 3 for adults, AED 1 for children (under the age of 6)