Kunsthaus Zurich (Fine Arts Museum)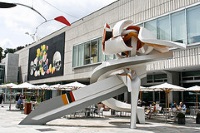 Kunsthaus © annaspies
Devoted for the most part to 19th and 20th century artwork, the Kunsthaus Zurich (Zurich Fine Arts Museum) is a cultural drawcard for any art lover. Holding one of the largest collections of works by Edvard Munch outside Norway, as well as works by renowned modern artists such as Chagall, Picasso, Monet, Rothko and the Expressionists, Kokoschka, Beckmann and Corinth to name a few, there is a whole host of quality artwork at which the visitor can marvel. Visitors can also view the creative talents of cutting edge Swiss artists such as the sculptor and painter Alberto Giacometti, and well-known Swiss duo Fischli/Weiss. Situated in a sophisticated building with contemporary exhibitions, a trip to the Kunsthaus Zurich makes for a very rewarding cultural day out.
Address: Heimplatz 1
Website: www.kunsthaus.ch
Telephone: +41 44 253 84 84
Opening times: Tuesday, Friday to Sunday 10am-6pm; Wednesday and Thursday 10am-8pm.
Admission: CHF 26 (concessions available)