Museum of Design Zurich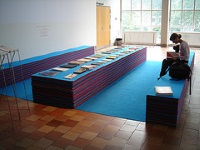 Museum of Design © laughingmonk
Known for sophisticated designs such as the internationally recognised symbol of the Red Cross, it is no wonder that Switzerland has a museum dedicated solely to design. With four separate collections, visitors can indulge in the designs of the Poster Collection, Design Collection, Graphic Collection and Decorative Arts Collection, spanning the past century or visit one of the temporary exhibits where works of acclaimed industrial designers, photographers, graphic artists and architects are regularly shown. Designed by the progressive Swiss architects Adolf Steger and Karl Egender as a Functionalist manifesto, the Museum of Design Zurich is a great example of modern architecture in Switzerland and is a gallery not to be missed.
Address: Toni-Areal, Pfingstweidstrasse 96
Website: www.museum-gestaltung.ch
Telephone: + 41 43 446 67 67
Transport: Tram 4, stop Toni-Areal.
Opening times: Tuesday to Sunday 10am–5pm, Wednesday 10am–8pm. Closed Monday.
Admission: CHF 12, concessions are available.