Pavillon Le Corbusier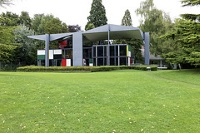 Centre Le Corbusier © n e o g e j o
The final work of the renowned Swiss architect who pioneered modernism and laid the foundation for Bauhaus, the Pavillon Le Corbusier in Zurichhorn Park is the epitome of modern design. A conglomeration of his life's work, the former Centre Le Corbusier and Heidi Weber Museum unify Le Corbusier's architecture, paintings, furniture, sculpture and writings, all in one space.
Created in the 1960s, the contemporary building has strong references to Mondrian and is a jumble of cubic structures made of coloured panels, glass and steel, protected by a detached angular roof. Initially designed as a private house, the many spaces of the Centre Le Corbusier have fared well as an exhibition and learning centre. On your way to this illuminating masterpiece, take a stroll alongside the Limmat River in picturesque Zurichhorn Park and keep a look out for the sculptures of Jean Tinguely and Henry Moore.
Address: Hoeschgasse 8
Website: www.stadt-zuerich.ch/lecorbusier
Telephone: (044) 383 6470
Opening times: Wednesday to Sunday 12pm-6pm; Thursday to 8pm.