Sydney Tower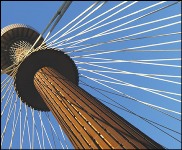 Sydney Tower, or the AMP Centrepoint Tower, is the tallest free-standing building in the city, and the second tallest in the country. Situated above the Centrepoint office building and shopping centre, the tower is one of the main attractions in Sydney for its 360-degree views and Tower Skywalk platform. The observation deck is 820 feet (250m) above the city, with an enclosed viewing platform with information on the points of interest. OzTrek takes visitors on a virtual adventure, where diverse Australian landscapes are brought to life with a unique integration of 3D holographic technology, animated models and scenic art. The Sydney Tower Skywalk platform sits above the observation deck at 853 feet (260m) above the ground, twice the height of the harbour bridge, and harnessed to the glass-floored platform, daredevils can hang out over the city far below.
Address: 100 Market Street, Centrepoint Building
Website: www.sydneytower.com.au
Telephone: (0)2 9333 9222
Transport: Sydney Explorer Bus Stop 14, monorail to City Centre Station
Opening times: Sydney Tower Observation Deck and OzTrek is open daily, from 9am to 10.30pm (closed on Christmas Day). Skywalk is open from 9.30am to 8.45pm, leaving approximately every 45 minutes (subject to demand).
Admission: A$25 (adults), A$15 (children 4-15). Concessions available