Arc de Triomphe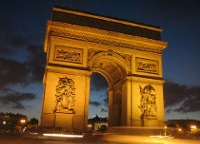 Arc de Triomphe de l'Etoile © Kieran Lynam
The world's largest triumphal arch, the Arc de Triomphe de l'Etoile is set at the centre of a star-shaped configuration of 12 radiating avenues in the heart of the Champs Elysées. It stands 165 feet (51m) tall and the names of major victories won during the Revolutionary and Napoleonic periods are engraved around the top of the Arch. The names of less important victories, as well as those of 558 generals, can be found on the inside walls. Since 1920, the tomb of France's Unknown Soldier has been sheltered underneath the arch. Its eternal flame commemorates the dead of the two world wars, and is rekindled every evening at 6pm. On July 14, the French National Day, also known as Bastille Day, a military parade starts at the arch and proceeds down the Champs Elysées. Visitors can climb to the top of the Arc de Triomphe (or take the elevator) and the views over Paris are spectacular. It is a humbling monument which can't fail to inspire respect and awe and a trip to Paris is not complete without a visit.
Address: Centre of the Place Charles de Gaulle
Website: arc-de-triomphe.monuments-nationaux.fr
Telephone: (01) 55 37 7377
Opening times: Open daily: October to March 10am-10:30pm; April to September 10am-11pm.
Admission: €12 (adults), €9 (reduced).