Les Invalides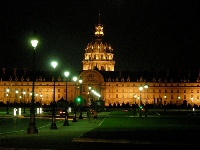 Les Invalides was built by Louis XIV in 1670 as a military hospital to take care of wounded soldiers and now comprises the largest single collection of monuments and museums in Paris, all relating to the military history of France. It is the burial site of some of France's war heroes, and a number of France's famous dead, including the ashes of the greatest French military commander, Napoleon Bonaparte, rest under the dome of Les Invalides and attract many visitors to Paris. Its large grounds and church with a golden dome make Les Invalides a classical French architecture masterpiece. There are also impressive collections of weaponry from all periods of French history. Numerous suits of armour, including those made in children's sizes for boy kings, are part of this collection. Military history buffs will be in heaven at Les Invalides and even the less clued-up and interested will be moved by the place.
Address: 35 Rue du Chevaler-de-la-Barre
E-mail: accueilnord-ma@invalides.org
Website: www.invalides.org
Telephone: (33) 0810 11 33 99
Transport: Acessible by Line 8 Latour-Maubourg, or Bus 32, 63, 93.
Opening times: 10am to 5pm (October to March), 10am to 6pm, and until 9pm on Tuesdays (April to September). Open an extra half hour on Sundays. Closed first Monday of every month and public holidays.
Admission: €9, free for under 18s; other concessions available.