Hvar Island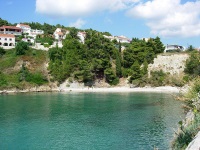 Hvar Island © Gaucho
Off the coast of Split, just 15 nautical miles (24km) from Baska Voda and accessible by ferry, is the island of Hvar, which abounds with Romanesque and Renaissance buildings and a true Mediterranean atmosphere.
Hvar has been populated since prehistoric times, with archaeologists finding evidence of life on the island dating back to 3500 BC. The island is noted for its fertile soil and was the site of the world's first parcelling out of arable land by the ancient Greeks, who farmed here.
It is now mainly a wine-growing area, with the island's main towns of Vrboska and Jelsa famed for their Dalmatian vintages. Hvar is dotted with picturesque villages, many of which remain fairly untouched by time and tourism, and are well worth a visit for a glimpse into rural island life in Croatia.
Must-see attractions in Hvar include the incredible Hvar Fortress which can't be missed by history buffs and anybody who appreciates a great view. It is a bit of a climb to get to the old fortress but from the site you can see the whole town and harbour. No visit to Hvar would be complete without a visit to Dubovica Beach, which is often delightfully free of the usual crowds.
Website: www.hvar.hr