Big Buddha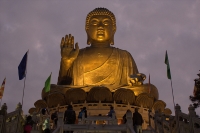 Big Buddha © travelwayoflife
The Big Buddha, or Tian Tan Buddha, is one of the tallest outdoor seated bronze Buddha statues in the world, and can be found near Po Lin Monastery. The giant Buddha is a popular tourist destination and a major centre of Buddhism in Hong Kong. The 112-foot (34m) high statue sits on a lotus throne on top of a three-platform altar and is surrounded by eight smaller statues of gods. Inside the three floors beneath the Buddha visitors can access the Hall of the Universe, the Hall of Benevolent Merit and the Hall of Remembrance. Visitors can also climb the 268 steps to reach the platform where the impressive figure is seated, and admire the view from the top.
The Tian Tan Buddha is a lovely excursion from the city and the short trip is a great break from the crowds and noise of Hong Kong. You can take the cable car either one way or both - some people prefer to either hike down through the hills after taking the cable car to the site, or to get there on the ferry and buses before taking the scenic cable car route back down into the city. There are many places to get refreshments at the site with both traditional meals and international fare like Starbucks on offer. Try to visit the Buddha on a clear day, when the views are at their best.
Address: Ngong Ping plateau
Admission: Free. A fee is charged for access to the exhibition halls below.