Hong Kong Science Museum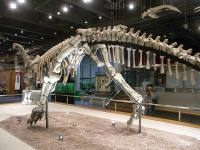 Hong Kong Science Museum © Amongesle
This fascinating museum is consistently ranked highly by tourists. Four floors of exhibits cover a range of hands-on science and technology related subjects, including light, sound, motion, magnetism, electricity, robotics, virtual reality and much more. This museum is extremely popular because of its hands-on approach, allowing children and adults alike to learn through involvement. The most prominent exhibit is a 72-foot (22m) tall twin tower Energy Machine which, when activated, triggers a series of displays to produce spectacular audiovisual effects demonstrating various forms of energy.
The Science Museum is a great option for entertaining and educating young minds (and old ones) when the weather is bad, and should keep the whole family occupied for a few hours. For young children there are fun play areas and a toddler's tumble area.
Address: 2 Science Museum Road, Tsimshatsui East, Kowloon
Website: hk.science.museum
Telephone: 2732 3232
Opening times: Monday, Tuesday, Wednesday, Friday 10am to 7pm; Saturday, Sunday and public holidays 10am to 9pm. Closed Thursdays.
Admission: Standard ticket for permanent exhibition hall: HK$20 (adults), HK$10 (concessions). Free on Wednesdays.