Franciscan Monastery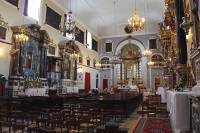 Franciscan Monastery Interior © Sailko
The original Franciscan monastery in Dubrovnik was built in the 13th century in the Pile area. But when war broke out in the 14th century, the monks were forced to relocate to gain the protection of Dubrovnik's formidable defensive walls.
Parts of the current monastery, and most of the church, have had to be rebuilt over the centuries due to damage. But parts of the complex date back to 1317. This Franciscan church and monastery, still enclosed in the walls of medieval Dubrovnik, boast one of the most beautiful Romanesque cloisters in Dalmatia.
Within the monastery complex there is also a working pharmacy, which has been in business since 1317 and is thought to be the third oldest pharmacy in the world. A museum houses relics from the original medieval pharmacy such as medical books, instruments, and weight scales, as well as some gilded church relics.
The massive monastery library, one of the richest in Croatia, is renowned globally by historians for its inventory: it contains some 30,000 volumes with 1,500 handwritten documents. The monastery is a great refuge after sightseeing in the heat and crowds of the city. It is cool and quiet and also has some tranquil gardens to venture into.
Address: Placa 2