Museum of Modern and Contemporary Art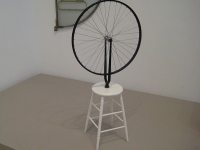 Bicycle Wheel by Marcel Duchamp © Esrever
Opened in 1994, the cutting edge Museum of Modern and Contemporary Art refuses to conform and as museum director Christian Bernard says, the museum 'is not here to present the acceptable face of contemporary art'. With modern works dating from the 1960s to the present day, exhibited in a turn of the century factory, visitors to MAMCO will spend hours marvelling at the range of contemporary art that covers three floors. The Museum of Modern and Contemporary Art constantly reinvents itself, changing its exhibits and interior construction three times a year. The works of famous Dadaist Marcel Duchamp are on display all year round.
Address: 10 rue des Vieux-Grenadiers
Website: www.mamco.ch
Telephone: (0)22 320 6122
Transport: Tram 12, 13, 14, 15 or 17, stopping at Rond-Point de Plainpalais
Opening times: Open Tuesday to Friday, 12-6pm. Saturday and Sunday, 11am-6pm. Open from 12pm to 9pm on the first Wednesday of every month.
Admission: Sfr8 (adults), children free. Free from 3pm on the first Sunday of every month and 7pm on the first Wednesday of every month