Barbier-Mueller Museum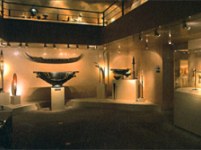 Ancient Artefacts at Barbier-Mueller © Musée Barbier-Mueller
Featuring a comprehensive collection of 7,000 artworks and artefacts from civilisations around the world, the Barbier-Mueller Museum in Geneva is the outcome of the tireless accumulations of Josef Mueller, whose collection began in 1907 and is continued to this day by his heirs. Founded in 1977, the museum wanted to preserve and study the sculptures, fabrics and ornaments brought from "primitive" civilisations that were once isolated communities. Lookout for the megalithic monuments from Indonesia, the statues and items of worship from Oceania, pre-Columbian art from the Americas and ancient masks and shields from Africa.
Address: 10 Rue Jean-Calvin
E-mail: musee@barbier-mueller.ch
Website: www.barbier-mueller.ch
Telephone: (0)22 312 0270
Transport: Bus number 2, 7, 12 or 16 to Molard. Bus number 17 to Hôtel-de-Ville
Opening times: Daily from 11am to 5pm
Admission: Sfr8 (adults), Sfr5 (concessions). Children under 12 years are free.