Exploratorium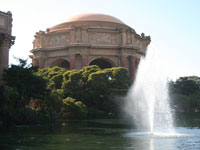 Located inside the Palace of Fine Arts, the Exploratorium is known as the museum of science, art and human perception, and is a leader in the movement to promote museums as educational centres. Named San Francisco's best museum, the Exploratorium is a fun, quirky museum of science, art, and human perception that features some 650 'please touch' exhibits. Many of its exhibits are created by visual and performing artists as well as scientists and educators. Exhibits such as the off-site Wave Organ, a unique sonic exhibit which is located on a nearby piece of land jutting out in the San Francisco Bay, can be found nowhere else in the world. It is one of San Francisco's most popular museums, drawing over 500,000 people each year and its three-dimensional pitch-black Tactile Dome inspire many visitors to approach challenges in a very different way.
Address: 3601 Lyon Street, San Francisco, CA 94123
E-mail: visit@exploratorium.edu
Website: www.exploratorium.edu
Telephone: (415) 561 0360
Transport: The Exploratorium has convenient access to public transportation, accessible by San Francisco Muni buses 30, 43, 28 and 29. Muni bus lines 22, 41 and 45 also stop in the vicinity. From Fisherman's Wharf take the 30 Stockton bus.
Opening times: Open Tuesday to Sunday 10am-5pm. Closed Mondays, except Martin Luther King Day, President's Day, Memorial Day and Labor Day. Closed Thanksgiving, Christmas Eve and Christmas Day.
Admission: Adult $15. Children under 12 $10. Concessions available.