Dubrovnik City Walls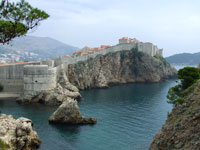 The impressive walls enclosing the ancient city of Dubrovnik were laid out in the 13th century and became an ongoing work for almost two centuries. They are among the finest in the world and are the city's main attraction. The fortified walls are up to 10 feet (3m) thick on the sea side, and at least twice as thick on the land side to guard against invasion by the Turks in the 15th century. They reach 82 feet (25m) in height. Visitors can access the walls via a steep stone stairway and once ascended they will be rewarded with superb views over the old city and out to sea. A walk around the old city from this fascinating vantage point is a must for visitors to Dubrovnik; in fact, it is a good way to begin your sightseeing of the city. The detached Lovrjenac Fort to the west of the old city stood guard against both land and sea invasion and is also worth a visit for its superb views.
Telephone: (0)20 425 942
Opening times: Opening times vary according to the season, but generally 9am to 6:30pm (summer), 10am to 3pm (winter).
Admission: HRK 70 (adults); HRK 30 (children)