Aquarium of the Bay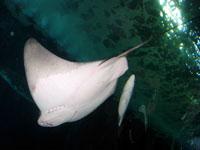 Bat Ray at the Aquarium of the Bay ©
The Aquarium of the Bay features 300 feet (91m) of crystal clear acrylic tunnels through which over 20,000 aquatic animals can be viewed. The aquarium offers visitors the opportunity to come face-to-face with the Bay's largest predator, the seven-gill shark, as well as touch leopard sharks, skates, rays and sea stars. The Aquarium hosts nearly 600,00 visitors every year and provides free classes and tours to more than 13,000 Bay Area school children annually, making it a wonderful San Francisco attraction for families.
Address: Pier 39, the Embarcadero and Beach Street.
E-mail: info@aquariumofthebay.com
Website: www.aquariumofthebay.com
Telephone: (415) 623 5300
Opening times: Open daily except 25 December. Open daily 9am-8pm in summer, reduced hours in other seasons.
Admission: Adults $19.95, Children $11.95. Concessions available.