Museum of Art and History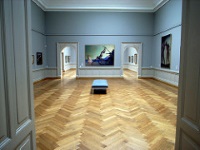 Museum of Art and History © Erik Starck
Comprising of three sections, the captivating Museum of Art and History explores the passage of western culture and international civilizations with over 7,000 pieces covering archaeology (Roman, Greek, Egyptian and Etruscan), fine arts (paintings from the Renaissance to modern times) and applied arts (found objects from the Middle Ages to the 20th century).
One of Geneva's largest museums, the colossal Museum of Art and History was built at the beginning of the 20th century, between 1903 and 1910. When visiting lookout for paintings by legendary artists Van Gogh and Renoir.
Address: Rue Charles-Galland 2
Website: institutions.ville-geneve.ch/fr/mah/
Telephone: (022) 418 26 00
Opening times: 11am-6pm, closed on Monday.
Admission: Permanent exhibitions are free of charge.