Liebieghaus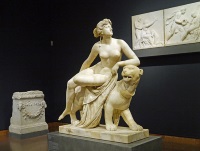 Ariadne auf dem Panther © Simsalabimbam
Situated on the south bank of the river Main, the Liebieghaus was built in 1896 for Czech Baron Heinrich Liebieg, but today is the home of Frankfurt's Museum of Sculpture. The building itself is gorgeous and castle-like and adds a great deal to the atmosphere and appeal of this interesting museum. Exhibits include sculptures from ancient times, covering art from Sumeria, Egypt, Greece and Rome as well as more modern Baroque, Rococo and Renaissance examples. A range of Asian pieces also feature in the collection as well as a few works by world-renowned artists. There are about 5,000 pieces in the collection and the museum feels intimate and is usually less crowded than other big art museums in Frankfurt. The Liebieghaus also puts up some great temporary exhibits showcasing modern sculptors - check the website to see what is currently on show. Labels and tours are in multiple languages and there are audio guides available. The cafe outside in the courtyard is charming.
Address: Schaumainkai 71
Website: www.liebieghaus.de
Transport: Tram 15 or 16 to Otto Hahn Square; U1, 2, 3 to Swiss Square
Opening times: Tuesday, Wednesday and Friday to Sunday 10am to 6pm; Thursday 10am to 9pm; closed Mondays.
Admission: €10 (adults); €8 (reduced). Children under 12 are free.