Historical Museum (Historisches Museum)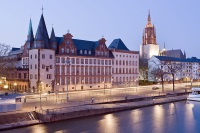 Historical Museum © Mylius
The Historical Museum (Historisches Museum) has many permanent exhibitions featuring objects and works of art ranging from the Middle Ages to the present day. The museum's changing exhibitions cover a range of themes such as cultural history, art history and general history. Collections feature examples of gold and silver crockery and jewellery; pottery and porcelain; paintings and photographs; and scaled-down models of the Altstadt (Frankfurt old town) at various periods of its development. The museum is useful for giving visitors an idea of what Frankfurt looked like before the damage of World War II when it was quite a different city in some regards.
The Children's Museum, which lies adjacent to the Historical Museum, features a variety of special offers and exhibitions for youngsters of all ages. The museum has recently undergone extensive renovations and has been greatly improved.
Address: Saalgasse 19
Website: www.historisches-museum.frankfurt.de
Transport: U-bahn to Römer
Opening times: Tuesday to Sunday 10am to 5pm, Wednesday 10am to 9pm, closed Mondays.
Admission: €7 (adults), €3.50 (reduced).