Städel Gallery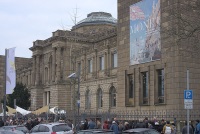 St�del Gallery © DrKssn
Frankfurt's most important art gallery is the Städel Gallery which contains a fantastic collection of most European schools of painting. The first floor features the works of German painters of the 19th and 20th centuries, as well as famous French Impressionists such as Renoir and Monet. The second floor offers visitors the pleasure of viewing an outstanding collection of Flemish primitives, 17th-century Dutch artists, and 16th-century German masters such as Dürer, Grünewald, Memling, Elsheimer, and many others. One of the most impressive paintings is Jan van Eyck's 'Madonna' (1433). The gallery also puts up regular temporary exhibitions of very high quality and it is worth checking the website to see what's on during your visit. The gallery has a restaurant, a coffee shop and a bookstore which has a selection of great gifts. This gallery is consistently ranked very highly as an attraction in Frankfurt by tourists.
Address: Schaumainkai 63
Website: www.staedelmuseum.de
Telephone: (0)69 605 0980
Transport: U1, 2, 3 to Schweizer Platz; trams 15 and 16 to Otto-Hahn-Platz
Opening times: Tuesday, Wednesday, Saturday, Sunday 10am to 6pm; Thursday, Friday 10am to 9pm; closed Mondays.
Admission: €14 (adults); €12 (reduced); free for children under 12.