Marin Drzic's House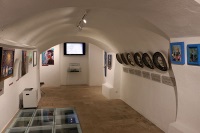 Marin Drzic's House © Sailko
Marin Drzic is Croatia's best-known literary genius, immortalised in his Dubrovnik home which serves as a museum dedicated to the famous playwright and author. It gives visitors a great insight into the writer with a 40-minute presentation on his life and work.
Drzic was born in Dubrovnik, probably in 1508, and he was a popular playwright, entertainer, and musician. The house itself has been restored to reflect the 16th-century Renaissance period that Drzic lived in.
The Marin Drzic House is more than just a memorial. Indeed, it is an exhibition space and museum of theatre. The museum collects theatrical material for study and further dissemination and it is the only institution of its kind in Croatia.
The museum has a collection of posters, programmes, and photographs from performances of Drzic plays all over the world. While the exhibition provides a good introduction into the history and culture of Dubrovnik itself, those without a particular interest in Croatian literature and theatre may find the museum a bit obscure.
Address: Siroka ulica 7
Website: muzej-marindrzic.eu/en