Frankfurt Zoo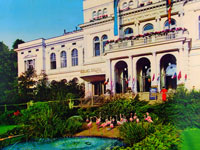 The Frankfurt Zoo, located in Ostend, was nearly totally destroyed in World War II, with only 20 animals surviving. It was rebuilt in the early 1950s and since then has grown to include several innovative new sections such as the highly popular Big Cat Jungle; and the Exotarium which houses fish, insects, reptiles and penguins, all kept in their natural surroundings. The Frankfurt Zoo is home to over 3,200 different animals across 600 species and is renowned for keeping them in environments that most closely resemble their own natural habitats. A major draw card for the zoo and one of its most unique features is Grzimek House which is home to nocturnal animals who think it's night-time during the day. Other popular animals include the tigers, rhino, lions, crocodiles and hippo, among many others. The zoo has a reputation for being one of the most attractive, pleasant and popular zoos in Europe. Away from the fauna there are two restaurants as well as a terrace to enjoy in the summer months.
Address: Alfred-Brehm-Platz 16
Website: www.zoo-frankfurt.de
Telephone: (0)69 212 33735
Transport: U6 or U7
Opening times: Open daily 9am to 7pm in summer, and 9am to 5pm in winter.
Admission: €8 (adults), €4 (children 6-17). Concessions available. Last Saturday of the month: €6 (adults), €3 (children).