Museum of Contemporary Canadian Art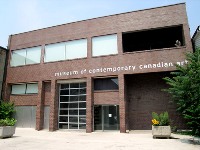 Museum of Contemporary Canadian Art © Roberta Cibin
Formerly the Art Gallery of North York, the Museum of Contemporary Canadian Art opened its doors in 1999 keen to display modern Canadian art that addresses current Canadian narratives and global issues. Situated in trendy downtown Toronto, Mocca boasts a permanent collection of about 400 artworks by 140 different Canadian artists, despite its small size. With most works created since 1985, Mocca offers great insight into contemporary Canadian society. A country once renowned for its loose immigration laws, Canada is home to a mix of cultures, which makes for a stimulating art world. Look out for group exhibitions with international artists and the annual Mocca Award in Contemporary Art.
Address: 952 Queen Street West
Website: www.mocca.ca
Telephone: (416) 395 0067
Transport: Shaw Street subway station
Opening times: Open Tuesday to Sunday, from 11am to 6pm. Closed on Mondays
Admission: Free. Donations welcome.