Toronto Islands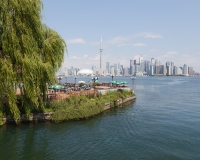 Toronto Islands © Norman Maddeaux
The Toronto Islands are only a short ferry ride from the mainland, and provide a peaceful green refuge from the hubbub of the city. Whether alone or with company, visitors can enjoy a world of tree-filled picnic spots, car-free streets, quaint old cottages and beachfront attractions.
Three major islands - Centre, Ward's and Algonquin - make up Toronto Island. Paths, bridges and boardwalks connect all of them. Also, short walks or bike rides separate visitors from four sandy beaches named Centre Island Beach, Gibraltar Point Beach, Hanlan's Point Beach and Ward's Island Beach.
Centre Island is normally a hit with kids, who relish its huge picnic areas, bike paths and maze. It even has an amusement park, a petting zoo and picturesque swan boats for younger children.
.
Address: Toronto Island Ferry Docks, foot of Bay Street and Queens Quay
Website: www.toronto.ca/parks/island/
Transport: The Toronto Island Ferry operates daily from 9am to 10pm, and leaves every 30 minutes. It travels to Hanlan's Point, Centre Island and Ward's Island