Gardiner Museum of Ceramics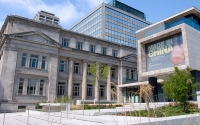 Gardiner Museum of Ceramics © End User
Housed in an attractive building across from the Royal Ontario Museum, the Gardiner Museum of Ceramics is one of the city's finest examples of modernist architecture. Giving visitors a glimpse into a universal art form that has spanned centuries, the Gardiner Museum exhibits more than 3,000 historical and contemporary ceramic pieces. With earthenware of all different shapes and sizes from the ancient Americas, China, Japan, the Italian Renaissance and more, a tour through the museum will shape visitors' understanding of the development of the ceramic process. On Friday evenings visitors can try their hand at sculpting and wheel throwing in the open clay studio or attend free films and seminars.
Address: 111 Queen's Park
Website: www.gardinermuseum.on.ca
Telephone: (416) 586 8080
Opening times: Monday to Thursday from 10am to 6pm; Friday from 10am to 9pm; Saturday and Sunday from 10am to 5pm
Admission: C$15 (adults); free for children under 18 years. Other concessions available.