Gardiner Museum of Ceramics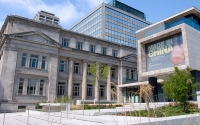 Gardiner Museum of Ceramics © End User
Housed in an award-winning piece of architecture, the Gardiner Museum of Ceramics showcases a craft that has existed for centuries. With earthenware of all different shapes and sizes from the ancient Americas, China, Japan, the Italian Renaissance and more, a tour through the museum will shape visitors' understanding of the ceramic process, and its place in world history. The museum hosts drop-in classes on Wednesdays, Fridays and Sundays, and is home to 'Toronto's Best Gift Shop', Vogue.
Address: 111 Queen's Park
Website: www.gardinermuseum.on.ca
Telephone: +1 416 586 8080
Opening times: Monday to Thursday from 10am to 6pm; Friday from 10am to 9pm; Saturday and Sunday from 10am to 5pm
Admission: C$15 (adults); free for children under 18 years. Other concessions available.