Cathedral Treasury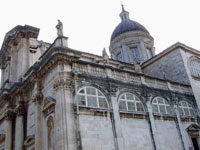 Dubrovnik cathedral © Judith Duk
Dubrovnik has had at least three cathedrals on the same site during its long history (some argue there have been as many as five since the 6th century). The first was a Byzantine building dating from the 7th century; the second a Romanesque Cathedral which was destroyed by the great earthquake of the 17th century; and at present the beautiful Baroque structure which was designed by Italian architect Buffalini from Urbino and completed in 1713.
Within the current cathedral, called the Cathedral of the Assumption of Mary, there are several magnificent statues and paintings, including the appropriately themed 'Assumption of Mary' by Titian, which dates back to about 1552. This cathedral has stunning Baroque features as well as valuable art and is definitely worth a visit.
The cathedral also has a treasury where hundreds of religious relics are stored. There is a cover charge for seeing the treasury, which is rich in artefacts, icons, and paintings. The organisation of the artefacts is somewhat chaotic but there is something intriguing about this mysterious collection of treasures. Visitors will also see the archaeological excavations that continue on the cathedral site.
Address: Kneza Damjana Jude 1