Hockey Hall of Fame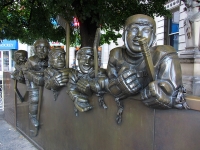 Hockey Hall of Fame © Richie Diesterheft
Any avid hockey fan must take a turn at Toronto's Hockey Hall of Fame, an ode to hockey's greatest players and most prized teams. A shrine to Canada's national sport, visitors can learn about the history of the game through memorabilia from every era, hockey artefacts from around the world, interactive exhibits and images of great moments in hockey history. Marvel at Terry Sawchuck's goalie gear, Newsy Lalonde's skates and the stick used by Max Bentley. The Stanley Cup never fails to delight visitors and most fun is had trying a hand at shooting or goalkeeping in the interactive displays. You won't be disappointed.
Address: 30 Yonge Street, Brookfield Place
Website: www.hhof.com
Telephone: (416) 360 7765
Opening times: Hours vary slightly according to the season and day, but are generally from 9.30am or 10am, to 5pm or 6pm.
Admission: C$18 (adults), C$12 (youths aged 4 - 13), free for children under 3. Other concessions are available.