Haus der Musik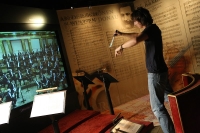 Virtual Conductor at Haus der Musik © Inge Prader
The House of Music is an interactive, hi-tech discovery museum devoted to music and is located in the former Palais of Archduke Charles. Four floors take visitors past the music and memorabilia of the great composers who lived in Vienna, such as Mozart, Beethoven, Brahms, and Schubert, and allow visitors to discover today's top musicians, as well as explore the future of music on computers.
Visitors can conduct an orchestra, listen to what an unborn child hears in the womb, or paint a musical picture. The museum was awarded top prize for its innovative design and allows visitors to experience music using the senses of sight, sound, touch, and hearing. A glorious combination of fun and education!
Address: Seilerstätte 30
Website: www.hdm.at
Telephone: +43 1 513 4850
Transport: Underground to Karlsplatz or Stephansplatz
Opening times: Daily 10am to 10pm
Admission: €13 (adults), €6 (children 3-12); other concessions available.