Natural History Museum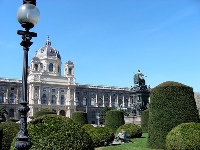 The impressive Natural History Museum is sited within a neo-Renaissance building that is identical from the outside to the Fine Arts Museum opposite. It is the third largest natural history museum in the world and has some of the oldest exhibits, including early Stone Age artefacts. Visitors can travel through the planet's history ranging from the diversity of nature to the origins of culture.
Address: Maria-Theresien Platz
Website: www.nhm-wien.ac.at
Telephone: (0)1 521770
Opening times: Thursday to Monday 9am to 6.30pm, Wednesday 9am to 9pm
Admission: €10 (adults), children under 19 free.