Karlskirche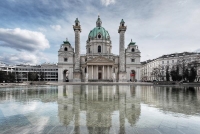 Karlskirche © Patrick Hesse
Karlskirche is the most outstanding Baroque church in the city and its 236-foot (72m) high dome flanked by two columns forms a dramatic landmark on the Viennese skyline. The church was commissioned by Emperor Charles VI, after the Black Plague that swept through Vienna in 1713, and is dedicated to the Saint Charles Borromeo who was revered as a healer for plague sufferers.
The lavishly decorated interior includes frescoes and visitors can get a closer look by taking the elevator to the roof, which is included in the entry fee. Although the lift carries visitors most of the way up, there are some steps to be climbed to get to the very top of the dome.
Address: Kreuzherrengasse 1
Website: www.karlskirche.at
Opening times: Monday to Saturday 9am to 6pm, Sundays and public holidays 12pm to 7pm.
Admission: €8 (adults), free for children under 10yrs. Concessions available.