Wolfsonian Museum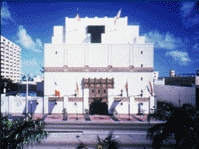 A vivacious collection of art and design pieces depicting popular culture from 1885 to 1945, the Wolfsonian is the amalgamation of a long-term pursuit by eccentric heir and collector, Mitchell Wolfson Jr. Housed in the original warehouse used as a storage facility for the 70,000 pieces, visitors can pick through the origins of graphic and industrial design in the hotchpotch of distinctive propaganda art from Germany, Italy and the United States, and the remarkable industrial design pieces from modern German design to Bauhaus. Not to be missed is the über cool Dynamo café and museum shop.
Address: 1001 Washington Avenue
Website: www.wolfsonian.org
Telephone: (305) 351 1001
Opening times: Thursday to Tuesday 9am-6pm. Open until 9pm Fridays, closed Wednesdays.
Admission: $7 (adults), $5 (seniors, students and children). Free admission after 6pm on Fridays.