Jungle Island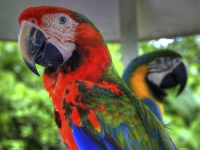 An offshoot of Parrot Jungle, which was established in 1936, Jungle Island is a new complex offering an exciting array of wildlife from parrots and macaws to crocodiles and penguins. You can witness over 200 parrots at the Manu Encounter, the world's only aviary replicating the clay cliffs of Manu, Peru and at the Parrot Bowl, a gaping amphitheatre, you can be entertained by the clever antics of cockatoos, parrots and macaws. Look out for the rare albino alligator and 21-foot crocodile at the Serpentarium. A new addition to Jungle Island is the waterpark featuring the 168-foot Hippo Slide, with an exhilarating 40-degree drop.
Address: 1111 Parrot Jungle Trail
Website: www.parrotjungle.com
Telephone: (305) 400 7000
Transport: But routes C, K, M, and S all provide service to Jungle Island.
Opening times: Weekdays 10am-5pm, Weekends 10am-6pm.
Admission: $32.95 (adults), $24.95 (children 3-10). Other concessions available. Ticket prices do not include tax.