Dublin Zoo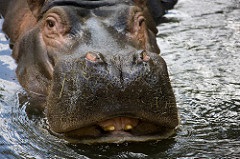 Hippo at Dublin Zoo © William Murphy
The Dublin Zoo is one of Ireland's most popular attractions for children. It takes visitors on a voyage of discovery from the Arctic to the Plains of Africa via an Indian Rainforest. The zoo houses more than 600 animals and the habitats are impressive, with lots of information provided on each species.
The zoo provides plenty of entertainment for kids, with free arts and crafts activities like face painting, and a number of little playgrounds dotted around the park. Visitors can see lions and tigers, Asian elephants, gorillas, chimpanzees and orangutans, rare monkeys, rhinos, hippos, giraffes and many more exotic and endangered species, including extremely rare species like the snow leopard. There is also a pet's corner for children, a city farm and a safari train ride around the African Plains.
Although it is an old zoo, it is recognised as one of the most modern in Europe, and it places emphasis on learning about wildlife and conservation. The Dublin Zoo is a registered charity and all profits will go towards maintenance and improvement. There are a number of snack stalls and a restaurant on the premises, but visitors can also bring their own picnics.
Address: Phoenix Park
Website: www.dublinzoo.ie
Telephone: +353 1 4748900
Transport: Buses:
 Nos. 25, 26, 46A, 66 / 66A / 66B, 67, 69 LUAS Red Line:
 Dublin Zoo is a 15 minute walk from the Heuston Station stop.
Opening times: Open from 9.30am Monday to Sunday. Closing times vary between 4pm and 6pm, depending on the season.
Admission: Adults €18, Children (3-16) €13.50. Concessions available.