Andautonia Archaeological Park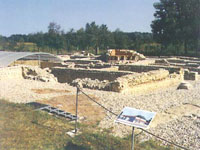 Near the village of Scitarjevo, close to Zagreb, are the remains of the ancient Roman town of Andautonia, which have been excavated and provide a fascinating tourist attraction. Andautonia was a prominent administrative, economic, cultural and religious centre about 400 years ago. Archaeologists are still excavating the site, but at the Andautonia Archaeological Park visitors can view a 26,910 square foot (2,500 sq m) area of the Roman City including parts of the main street, city baths, colonnades and side streets. There is a museum at the site which exhibits artefacts from the Greek and Roman history of the area. Tourists can also visit the present-day village of Scitarjevo, which offers examples of typical rural farms with their characteristic wooden houses.
Address: Archaeological Museum: 19 Nikola Subic Zrinski Square
Website: www.amz.hr (Croatian only)
Telephone: (0)1 487 3000
Transport: Regular buses run to the site from Velika Gorica.
Opening times: Archaeological Park: Tuesday to Friday 9am to 1pm and 4.30pm to 8pm; Saturday and Sunday 10am to 6pm (May to 23 September). Tuesday to Sunday 10am to 6pm (24 September to October). Museum: Tuesday to Friday 10am to 5pm; Saturday and Sunday 10am to 1pm. Museum open until 8pm on Thursdays.
Admission: Museum: HRK 20 (adults), HRK 10 (concessions). Park: HRK 15 (adults), HRK 10 (children)