Patek Philippe Museum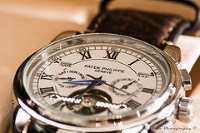 Patek Philippe © Sergio S.C
A fascinating presentation of Genevese, Swiss and European watches and enamels dating from the 16th to the early 19th century, including a great number of masterpieces that have left their mark on the history of horology. Audiovisual multilingual presentations of selected masterpieces animate the exhibit.
Explore the roots of time-measurement through a visual timeline which details the key events in watchmaking evolution from the Antique creations of the 1500's, through to the founding of Patek Philippe in 1839, up to the present day. The intricate details and designs, moving parts and beautiful colours of the collection will provide hours of fascination.
Address: Rue des Vieux-Grenadiers 7
Website: www.patekmuseum.com
Telephone: (022) 807 09 10
Transport: By bus ( line 1, stop at Ecole-de-Médecine) and by tram (line 12 and 15, stop at Plainpalais).
Opening times: Tuesday to Friday 2pm-6pm; Saturday 10am-6pm.
Admission: CHF 10, concessions available.